MAG520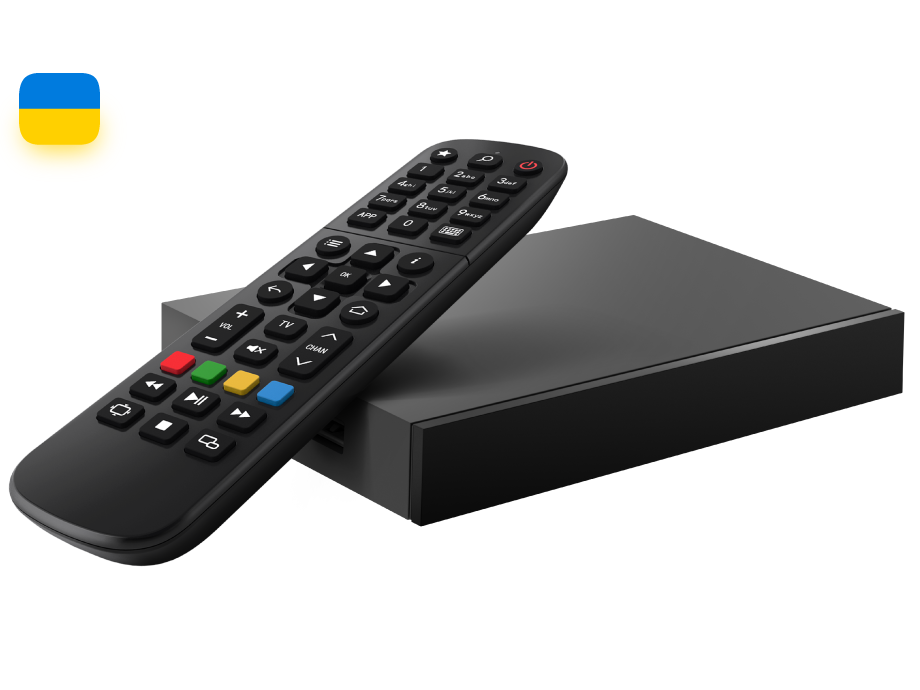 Linux 4.9, Amlogic S905X2 chipset, 4K and HEVC support, built-in Wi-Fi module
5
7
7
MAG520: 4K-fähige Linux Set-Top-Box mit HEVC-Unterstützung
MAG520 ist eine leistungsstarke Linux Set-Top-Box, die zur fünften Generation der von Infomir entwickelten Geräte gehört. Mit der Box können Sie Videos in HD und 4K mit einer Bildfrequenz von 60 fps abspielen.
The STB is powered by the quad-core Amlogic S905X2 chipset with the ARM Cortex-A53 CPU and runs at 18,400 DMIPS. The device offers 1 GB RAM and 4 GB internal storage. 
MAG box 520 easily connects to home theater audio systems, owing to the eight-channel Dolby Digital PlusTM sound support.
Peripherals such as keyboards and mice or external hard drives can be connected via USB 2.0 and 3.0 ports. The set-top box is connected to the data network via the Ethernet port (100 Mbit/s) to cast content online.
Qubic's modern, miniature design blends well with all types of interiors.
MAG520 specifications de
Audio and video
Video modes

PAL, NTSC, 576p, 720p, 1080p, 1080i, 2160p (4K)

Audio codecs

MPEG L1/L2/L3l, AAC-LC, HE AAC V1/V2, APE, FLAC, Dolby Digital Plus™

Audio formats

MP3, OGG, WAV, AAC

Video codecs

MPEG1/2 MP@HL, MPEG4 part 2 (ASP), H.265 Main/Main 10@L5.1 High 2160p@60 fps (optional), H.264 AVC High@L5.1 2160p@30 fps, XviD, 3D video support

Video containers

TS, AVI, MPEG, MP4, MOV, MKV, M2TS, VOB

Image formats

JPEG, PNG, BMP, RAW

Subtitles

DVB, PGS, SRT, SSA/ASS, SUB, Teletext, WebVtt, closed captions

Playlist formats

M3U, M3U8, PLS, CUE
Hardware features
Chipset

Amlogic S905X2

Performance

18,400 DMIPS

CPU

Quad-core ARM Cortex-A53

RAM

1 GB DDR3

Storage

4 GB eMMC
Software and CAS/DRM
OS

Linux 4.9

DRM/CAS

On request

Middleware

Pre-integrated Ministra TV platform. We can integrate the operator's applications into the image and customize or replace the image.
Interfaces
Digital ports

HDMI 2.1

Ethernet

100 Mbps

USB

1 × USB 2.0, 1 × USB 3.0

Bluetooth

—

Wi-Fi

—
Power
Power supply unit

DC 5 V, 2 A
Dimensions
Width/depth/height

120 × 78 × 21 mm

Weight

110 g
Yariss Netepee

Rezensionen

vor Monat(en)

Bought set top box mag 520 on sale

5

Faruh M

Rezensionen

vor Monat(en)

infomir mag520 the best choose for my business

5

Mark

Rezensionen

Thanks for your blog, nice to read. Do not stop.

1

Thomas

Rezensionen

vor Monat(en)

Fast delivery thou ;)

5

Aysha

Rezensionen

Very good product for the price

1

Mr Gordon

Rezensionen

vor Monat(en)

Far better than the Mag 250 it was replacing. However the 250 served me well for 6 years.

5

Nelly M

Rezensionen

vor Monat(en)

Excellent IPTV box, very stable and easy to use

5
MAG520 specifications de
Audio and video
Video modes

PAL, NTSC, 576p, 720p, 1080p, 1080i, 2160p (4K)

Audio codecs

MPEG L1/L2/L3l, AAC-LC, HE AAC V1/V2, APE, FLAC, Dolby Digital Plus™

Audio formats

MP3, OGG, WAV, AAC

Video codecs

MPEG1/2 MP@HL, MPEG4 part 2 (ASP), H.265 Main/Main 10@L5.1 High 2160p@60 fps (optional), H.264 AVC High@L5.1 2160p@30 fps, XviD, 3D video support

Video containers

TS, AVI, MPEG, MP4, MOV, MKV, M2TS, VOB

Image formats

JPEG, PNG, BMP, RAW

Subtitles

DVB, PGS, SRT, SSA/ASS, SUB, Teletext, WebVtt, closed captions

Playlist formats

M3U, M3U8, PLS, CUE
Mehr lesen
What you need to know about Linux STBs
WHAT CONTENT SOURCES ARE THERE FOR VIEWING ON LINUX STBS?

Connect to your Internet provider's IPTV/OTT service or subscribe to an external operator that provides this service to watch video and listen to audio content. Also, you can load your M3U, M3U8, PLS, or CUE playlists to the STB, while their content will be loaded from the Internet automatically.
A server in your local network or external storage, such as a hard drive, are possible alternative content sources.


WHAT TVS CAN CONNECT TO LINUX STBS?

MAG STBs are compatible with any TV that has an HDMI port. The devices can work with older TVs equipped with composite RCA connectors, but you will need an additional adapter to connect them.

WHAT COMES WITH LINUX STBS?

The package includes the following:



Set-top box


IR remote control


HDMI cable


Power supply unit


Two batteries for the remote control


User manual and warranty certificate



DO YOU PROVIDE A WARRANTY FOR STBS?

All MAG devices are sold with a two-year warranty. The device comes with a warranty card containing service center contacts.

HOW LONG CAN THIS STB RUN WITHOUT REBOOTING?

MAG Linux set-top boxes are high-quality devices from Infomir, a European company. They can play high-quality content smoothly and consistently without rebooting or shutting down for several months.

MAG 520 manual and setup

https://www.infomir.eu/eng/products/iptv-stb/mag520/#download
Yariss Netepee

vor Monat(en)

Bought set top box mag 520 on sale

Faruh M

vor Monat(en)

infomir mag520 the best choose for my business
Mehr lesen