MAG540w3 pack x50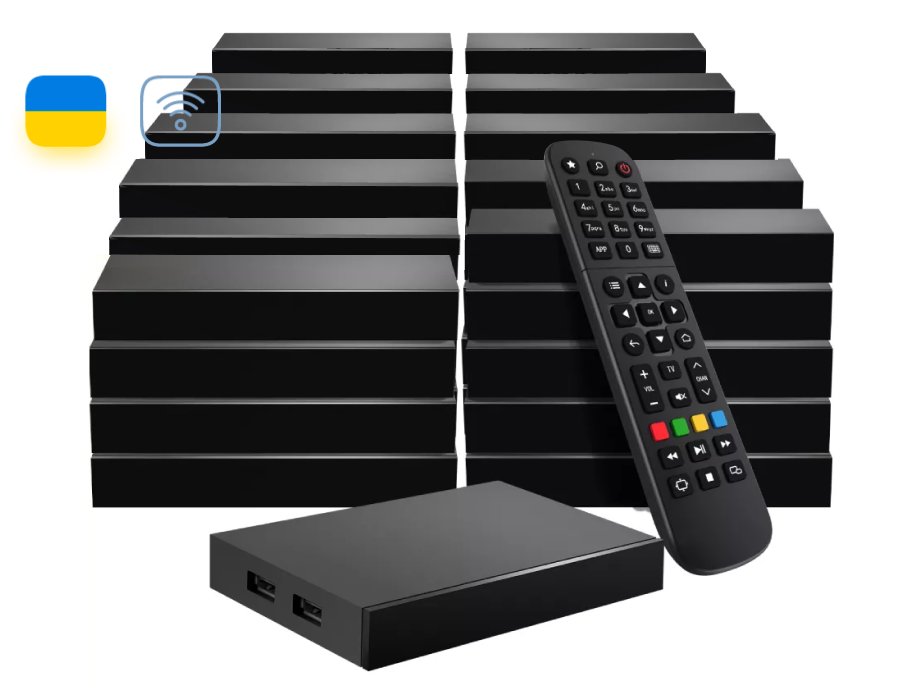 Linux 4.9, Amlogic S905Y4 chipset, 4K and HEVC support, built-in Wi-Fi module
Payment:
Online card payment
Promotional Visa card payment
Non-cash payment for legal entities
Non-cash payment for individuals
Warranty:
12 months
Exchange/return of goods within 14 days
MAG540w3 is a productive set-top box with Wi-Fi support. The manufacturer offers IPTV/OTT operators a favourable offer: a pack of 50 devices at a special price.
Amlogic S905Y4 chipset, quad-core ARM Cortex-A35 processor and Linux version 4.9 allow the set-top box to work stably without restarting for several months. The MAG540w3 supports the most popular video formats, codecs, and technologies. Users can watch 4K content – specifically high-definition video. The set-top box plays content smoothly, even at low Internet connection rates. Dolby Digital Plus™ surround sound helps to complete the visual experience: due to the support of this technology, users can connect a stereo system or compatible modern TV to the device and enjoy high-quality eight-channel sound.
Users can connect to the network in two ways: via Ethernet cable or Wi-Fi, depending on their preference. Due to two USB 2.0 ports, you can connect memory cards and peripherals to the MAG540w3.
To order a pack of fifty devices, please contact our manager.
*Infomir does not distribute, broadcast, or otherwise provide television or video content.
Technology for the best user experience MAG 540w3
4K and HEVC support

1 GB RAM

4 GB eMMC

Wi-Fi

Quad-core ARM Cortex-A35

User-friendly IR remote
MAG540 specifications
Audio and video
Video modes

PAL, NTSC, 576p, 720p, 1080p, 1080i, 2160p (4K)

Audio codecs

MPEG L1/L2/L3l, AAC-LC, HE AAC V1/V2, APE, FLAC, Dolby Digital Plus™

Audio formats

MP3, OGG, WAV, AAC

Video codecs

MPEG1/2 MP@HL, MPEG4 part 2 (ASP), H.265 Main/Main 10@L5.1 High 2160p@60 fps (optional), H.264 AVC High@L5.1 2160p@30 fps, XviD, AV1, 3D video support

Video containers

TS, AVI, MPEG, MP4, MOV, MKV, M2TS, VOB

Image formats

JPEG, PNG, BMP, RAW

Subtitles

DVB, PGS, SRT, SSA/ASS, SUB, Teletext, WebVtt, closed captions

Playlist formats

M3U, M3U8, PLS, CUE
Hardware features
Chipset

Amlogic S905Y4-B

Performance

16,500 DMIPS

CPU

Quad-core ARM Cortex-A35

RAM

1 GB DDR3

Storage

4 GB eMMC
Software and CAS/DRM
OS

Linux 4.9

DRM/CAS

On request

Middleware

Pre-integrated Ministra TV platform. We can integrate the operator's applications into the image and customize or replace the image.
Interfaces
Digital ports

HDMI 2.1

Ethernet

100 Mbps

USB

2 × USB 2.0

Bluetooth

—

Wi-Fi

—
Power
Power supply unit

DC 5 V, 2 A
Dimensions
Width/depth/height

120 × 78 × 21 mm

Weight

110 g
MAG540 specifications
Audio and video
Video modes

PAL, NTSC, 576p, 720p, 1080p, 1080i, 2160p (4K)

Audio codecs

MPEG L1/L2/L3l, AAC-LC, HE AAC V1/V2, APE, FLAC, Dolby Digital Plus™

Audio formats

MP3, OGG, WAV, AAC

Video codecs

MPEG1/2 MP@HL, MPEG4 part 2 (ASP), H.265 Main/Main 10@L5.1 High 2160p@60 fps (optional), H.264 AVC High@L5.1 2160p@30 fps, XviD, AV1, 3D video support

Video containers

TS, AVI, MPEG, MP4, MOV, MKV, M2TS, VOB

Image formats

JPEG, PNG, BMP, RAW

Subtitles

DVB, PGS, SRT, SSA/ASS, SUB, Teletext, WebVtt, closed captions

Playlist formats

M3U, M3U8, PLS, CUE
Read more
What you need to know about Linux STBs
WHAT CONTENT SOURCES DO LINUX SET-TOP BOXES WORK WITH?

The Linux-based MAG devices of the fifth series can play content from the following sources:

Video and audio content from IPTV/OTT operators and Internet providers
Playlists in M3U, M3U8, PLS and CUE formats (content is automatically downloaded from the Internet)
Local network server or external storage

WHAT IS INCLUDED IN THE SET-TOP BOX PACKAGE?

In the package you will find everything you need to connect the device, as well as documents for it. The package includes:

TV set-top box
Power supply
HDMI cable
IR remote control
Two batteries for the remote control
Warranty card and user manual

WHICH TVs ARE COMPATIBLE WITH LINUX STB?

You can connect any TV model with an HDMI port to the MAG set-top box. You can also connect the devices to older TVs via RCA composite connectors: for this purpose you will need an additional adapter.

DOES THE SET-TOP BOX HAVE A WARRANTY PERIOD?

The manufacturer provides a two-year warranty for all models of set-top boxes. The warranty card with service center contact details is attached to the device.

MAG540 manual and setup

https://www.infomir.eu/eng/products/iptv-stb/mag540/#download